Successful working, living, and leading in 21st century turbulence demands transformative resilience
Type R Partners is a boutique consultancy that works with organizations, leaders, and teams to provide strategic insight, new skills, and cutting-edge thought leadership that are crucial for turning challenges into opportunities, innovation, and meaningful success. We help you challenge your current beliefs, build transformative resilience, adapt skillfully to stay relevant in a changing world, and deliver social impact.  Type R Partners provides keynotes, workshops, assessments, and thought leadership that are catalytic, visionary, and strategic.
Type R: Transformative Resilience for Thriving in a Turbulent World
In this thought-provoking book Ama Marston, an internationally recognized strategist and thought leader on Transformative Resilience and purpose-driven leadership and business, teams up with her mother, psychotherapist, stress and work-life expert, and corporate consultant, Stephanie Marston. Together they explore the process of Transformative Resilience. And, they look at the mindset, skills, and strategies of Type Rs who are finding ways to turn some of the most challenging of circumstances into opportunity. Whether facing stress at work or home or grappling with global issues like climate change and financial crisis — Type Rs are growing from their experiences and springing forward rather than merely bouncing back — and ultimately making a contribution to the world.
Now on sale: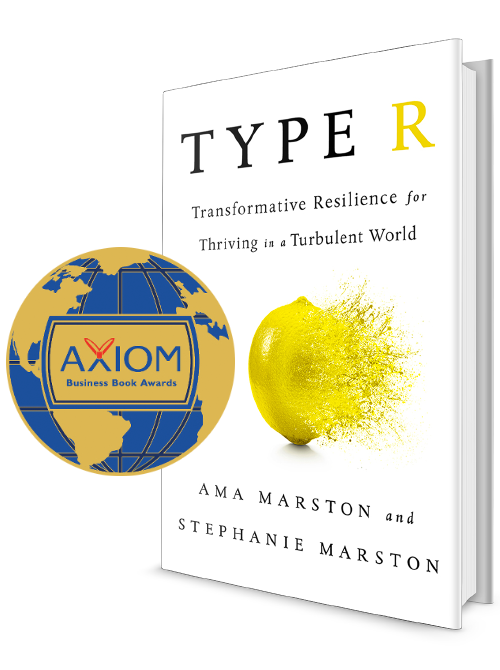 Axiom Business Book Gold Medalist
"This insightful road map to living in a world of uncertainty will leave readers hoping they too can be Type Rs."
Stephanie Marston is a pioneering psychotherapist, stress and work-life expert, five-time author and corporate consultant. Her clients include Bank of America, Corning, Mattel, and numerous others.