What is Type R?
Type Rs are the individuals, leaders, businesses, families, and communities that transform difficult circumstances into positive change, from meaningful growth to breakthrough innovation to newfound strengths.
Calling on decades of research in psychology, neuroscience, business, behavioral economics, and current affairs we have discovered the difference between Type Rs and those who fold in the face of turbulence is not resilience in the traditional sense but Transformative ResilienceTM — leveraging change, stress, and challenges into opportunity and making a contribution to the world.
Type R: Transformative Resilience for Thriving in a Turbulent World
In this thought-provoking book Ama Marston, an internationally recognized strategist and thought leader on Transformative ResilienceTM and purpose-driven leadership and business, teams up with her mother, psychotherapist, stress and work-life expert, and corporate consultant, Stephanie Marston. Together they explore the process of Transformative ResilienceTM. And, they look at the mindset, skills, and strategies of Type Rs who are finding ways to turn some of the most challenging of circumstances into opportunity. Whether facing stress at work or home or grappling with global issues like climate change and financial crisis — Type Rs are growing from their experiences and springing forward rather than merely bouncing back — and ultimately making a contribution to the world.
Now on sale: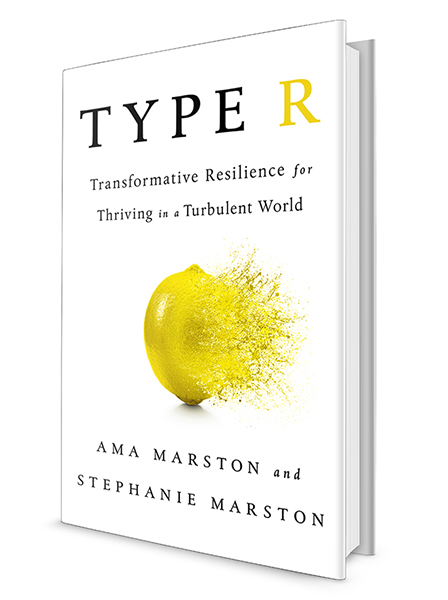 "This insightful road map to living in a world of uncertainty will leave readers hoping they too can be Type Rs."
Stephanie Marston is a pioneering psychotherapist, stress and work-life expert, five-time author and corporate consultant. Her clients include Bank of America, Corning, Mattel, and numerous others.